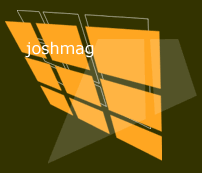 Actually, I don't know where he came from


"From the moment I met him, there were things that puzzled me about the Great Zucchini."

Just a great (long) article. The mystery of laughter, the roots of pathos, the peekaboo paradox, the bifurcations of the comic mind, the humbling human nature of a man bent down low enough to see. Whoíd think youíd get all this from a party clown?

Read the whole goddamn thing. Itís the best writing Iíve read in a newspaper/journal/magazine piece in a long while. And, like Iíve said, I get Vibe.





- 1/30/2006 9:48:10 PM |

link





Updates


- Funny Ha Ha (the movie)...not so funny

- Thomas is almost finished with his science project, Why Do Ships Float and Rocks Sink? I still don't understand the science part. Magic water particles like ships better?

- I started up another semester of school. I'm taking two classes (per usual). One is 1920s American Fiction and the other is Software Documentation. It's a bit of a blow-off semester. I have to have so many non-MFA-but-MA-related hours in addition to the MFA workshops and thesis. Apparently, as part of these "extra" classes, you can take Tech Comm classes. This one is a virtual class so I don't have to drive up to San Marcos for it. The 1920s lit class is taught by a professor who is close to senile. We talk about everything, but 1920s American lit. Here are some of my notes from the first night of class:

Bestselling authors and how they drank/died.

Pearl Buckís book, The Good Earth, is the all-time bestseller (check on this)?

Civil War was bad.

1898 Ė potboiler novel by some writer in England which predicted the events of the Titanic tragedy.

Spanish Flu of 1919 killed more people than the first World War.

Edith Wharton was a powerful, gifted author. And she was rich. Bonus.

Student finally attempts to engage professor at length about technology (time: 7:10pm).

First reference to drinking propensity in writers. I think this is how they rank in descending order: Hemingway > Wolfe > Fitzgerald > Faulkner. Not sure where Lewis and Sinclair fit in here. Willa Cather was probably a teetotaler.

Hemingway used to box the heavyweight champion of the world for grins.

Oprah was supposed to be called Orpha. Would Oprahís show be any good if it was called ďOrpha?Ē

If youíre a sports star, marry a smart girl. Or boy. The important thing is smart.

Terry Bradshaw is a real goofball. But he did win two Super Bowls.


- I found a cool site where you can download albums for a dollar a piece. They have a fair amount of good albums. I'll let you know if they steal my credit card number and use it to purchase nuclear-grade uranium.

- It's Kevin's birthday. And close to being LonAnne's and Rob's. And my brother-in-law.

- I signed up to get a bunch of free magazines through my frequent flyer miles and now I've got fifty-thousand magazines. I mean, you name it. We even get Vibe. I really grooving on Vibe right now. I had no idea that little Bow Wow was dating Ciara. Or that Jay-Z and Nas reconciled. A lot has happened these past few months.